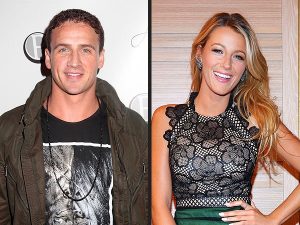 Ryan Lochte got the gold but he missed out on the girl.
The Olympic swimmer publicly declared his crush on Blake Lively just last week.
But that was before Blake Lively wed Ryan Reynolds in a surprise South Carolina ceremony Sunday.
RELATED: Ryan Reynolds trolls his new wife
"I just heard about the wedding," Lochte said. "I didn't even know she had a boyfriend until someone told me after I said I had a crush on her."
Not that the single athlete has any hard feelings towards Reynolds for taking Lively off the market.
RELATED: Ryan Lochte has a crush on Blake Lively
"That's great for them," he said. "I just want to congratulate them and wish them the best."
"I met Paris Hilton at a cocktail party last week," Lochte said of his New York Fashion Week rendezvous. "I got to hang out with her. She's a really sweet girl. Very attractive, I must say."
OLYMPIC CRUSH UPDATE: Ryan Lochte and Blake Lively