@Possessionista can you locate this sweater? I need it! -
@samantha_helmig via twitter
I'm always a little aggravated when a TV show puts together two characters whose palpable sexual tension keeps the show going. Never has this been more the case than Moonlighting – once David and Maddie did the deed, there really was no reason for the show to carry on.
And in second place is the Mindy Project which unnecessarily put Mindy and Danny together. The only thing making it worse, for me, is that just two episodes later they broke them up. My guess is that Mindy and Danny would have defied the odds if The Mindy Project hadn't secured it's third season, but now that we know Mindy and her merry medical misfits will be around for another season, they had no choice but to have Danny break Mindy's heart.
What can we expect but a third season on Danny stressing about Mindy dating people who aren't quite right.
And Mindy reminding him that they were on a break.
Check out more Mindy Project fashion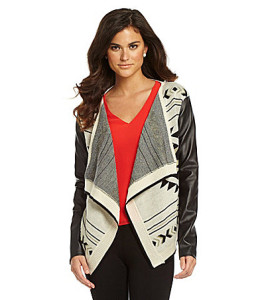 Exact: Twelfth Street by Cynthia Vincent
Look for Less: Gianni Bini (Dillards)
The post The Mindy Project fashion: Mindy's leather sleeve cardigan appeared first on Possessionista Celebrity Style.
Powered by WPeMatico